Our room solutions meet the following national and international standards:
•  EC 60529:1989 + A1:1999 + A2:2013
•  ISO 20653
•  EN 60068-2-18
•  JIS D203
•  IEC 60598-1
•  LV 124
•  GS 95003-4
•  NEMA 250
You would rather expand a room for your IP tests because your test items are large or bulky! Contact us. We would be happy to advise you on the planning of your wet room and expand it with our individual components. The following individual devices can be combined to form an overall system.
•  Drip devices for IPX1/2
•  Swivel tube systems for IPX3/4
•  Turntables of the DT series
•  Water supply units for IPX5/6
•  Dip tanks for IPX7
•  Lance racks for IPX9K
•  Test systems for NEMA / UL tests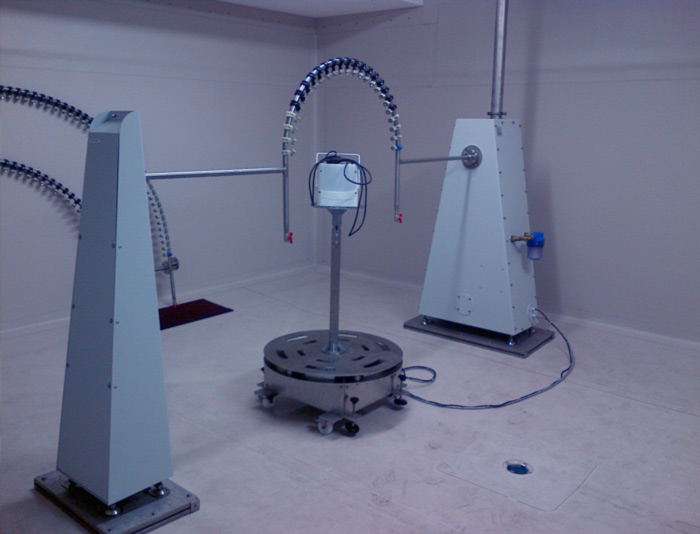 Swivel pipe system series SRA
SRA 1200
Height of swivel axis 1:  1200 mm
---
Height of swivel axis 2 (optional):  300 mm

---
Length with max arch:  2600 mm

---
Maximum number of swivel axes:  2
---
max. sheet size:  R 1000
---
Swivel angle of the swivel axis:  freely adjustable between -175° and +175°
---
Movement speed of the swivel axis:  adjustable 5 – 60°/s
---
Possibilities of moving the swivel axis:  positioning mode / reversing mode
SRA 1600
Height of swivel axis 1:  1400 mm
---
Height of swivel axis 2 (optional):  300 mm

---
Length with max arch:  4200 mm

---
Maximum number of swivel axes:  2
---
max. sheet size:  R 1600
---
Swivel angle of the swivel axis:  freely adjustable between -175° and +175°
---
Movement speed of the swivel axis:  adjustable 5 – 60°/s
---
Possibilities of moving the swivel axis:  positioning mode / reversing mode
Turntable for wet rooms series DT
D 800
Tread diameter:  800 mm
---
Telescopic extension diameter:  300 mm
---
Tread height:  280 mm
---
Load capacity telescopic extension:  50 kg
---
Load capacity of turntable surface:  150 kg
---
Reversing angle of the turntable:  freely adjustable between -175° and +175°
---
rotation speed of the turntable:  1-5 rpm
---
The turntable can be moved:  spinning mode/positioning mode/reversing mode
D 1000
Tread diameter:  1000 mm
---
Telescopic extension diameter:  300 mm
---
Tread height:  280 mm
---
Load capacity telescopic extension:  50 kg
---
Load capacity of turntable surface:  150 kg
---
Reversing angle of the turntable:  freely adjustable between -175° and +175°
---
rotation speed of the turntable:  1-5 rpm
---
The turntable can be moved:  spinning mode/positioning mode/reversing mode
D 1200
Tread diameter:  1200 mm
---
Telescopic extension diameter:  600 mm
---
Tread height:  280 mm
---
Load capacity telescopic extension:  50 kg
---
Load capacity of turntable surface:  150 kg
---
Reversing angle of the turntable:  freely adjustable between -175° and +175°
---
rotation speed of the turntable:  1-5 rpm
---
The turntable can be moved:  spinning mode/positioning mode/reversing mode
iTS GmbH
innovative Test- und Meßsysteme
Industriestraße 18
47589 Uedem