The SWK series surge water chambers meet the following national and international standards:
• LV 124
•  LV 124
•  GS 95003-4
•  ISO 16750-4
•  VW 80101 – 2009
• VW 80101 – 2009
The surge water chambers of the SWK series offer you
a reliable solution for your exams.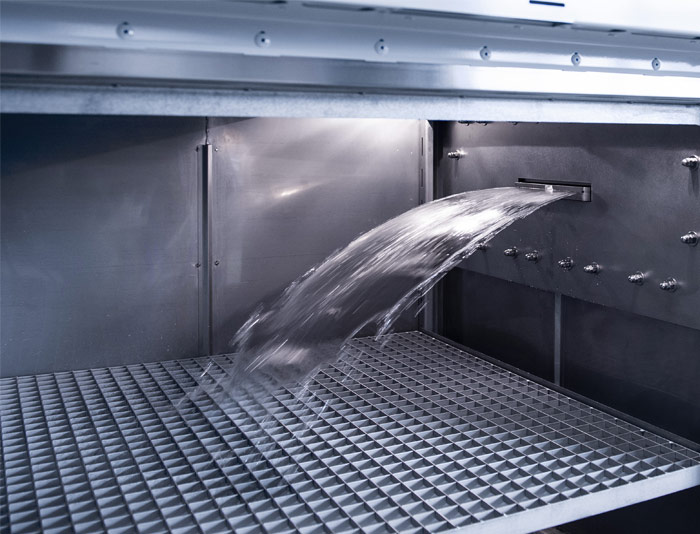 The following default options are available:
Operating unit - 7" touch panel (standard scope of delivery)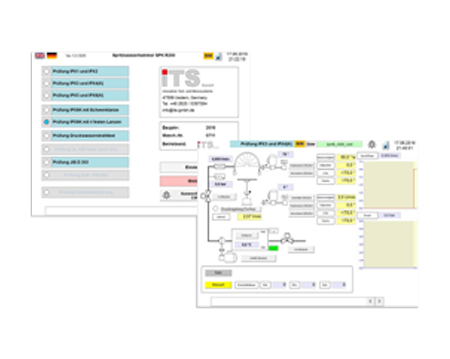 A surge water chamber from the SWK series is operated via a 7″ touch panel. The operating software can be operated intuitively. The software includes the following core functions:
• Manual operation for setting up the test items
• Automatic testing with defined test programs
• Data recording of values ​​such as temperature and surge cycles
• Creation of your own test programs
additional splash water nozzles
This option allows you to install additional surge water nozzles.
max. 2 nozzles per side wall.
The spray water chambers of the SPK series are available in the following standard sizes:
We would also be happy to create a solution with special dimensions for you or assemble the cabin on site.
SWK 1000
Outside dimensions (width / length / height) in mm:  2100 / 1320 / 2400
---
Test room dimensions (width / length / height) in mm:  1050 / 1050 / 1050
---
Number of splash water nozzles:  standard 1 nozzle / max. 4 nozzles
---
Surge medium:  water / water with Arizona
---
Splash water temperature :  1-4 °C
---
Temperature range surge water chamber:  40 – 140 °C (other ranges on request)
iTS GmbH
innovative Test- und Meßsysteme
Industriestraße 18
47589 Uedem